Minecraft Articles & Projects
Check out our own Minecraft Project Pharaoh Craft

Pharaoh Craft is an educational, Minecraft adventure map with an Egyptian Theme. Collect clues to help you through the puzzles and avoid the traps of the Pyramid of Unas. Click here to find out more.
---
Kayk- Minecraft YouTuber

Hello Everybody!

My name's Kayla, but I'm more commonly known as Kayk. I am a nineteen year old, Minecraft YouTuber and I currently reside in the sunny state of Florida.

I've always taken a liking to video games, but I only got into Minecraft approximately three years ago. To be honest, it really didn't appeal to me at first. I was one of those annoying, negative people who were like "the graphics suck, you're playing a block game trollololol". It wasn't until I was introduced to Stacyplay's channel who was just starting out, doing a MCSG series with the well known Joey Graceffa, that I actually took the initiative to buy an account. Being a big fan of "The Hunger Games" movies, I wanted to play it for myself. It didn't take long for my view of Minecraft to change, and I began playing on different servers and on my own world in Survival.

All along I had been posting my own videos on YouTube. When I started out, they were non-Minecraft related. I posted things like sit-down vlogs, DIY's, etc. It wasn't until this year that I decided to switch my channel over to gaming. Currently, I mainly post Minecraft videos, but I'd eventually like to expand to other games. Right now I have my main series with an awesome group of people called "The Universal SMP". You can see the first episode here:
The Universal SMP first episode
And I also have some other series I am working on including:
The Hunger Games
Story Times
Mini Games, and soon, Adventure Maps.
YouTube had been such a large part of my life before and it only made sense for me to take the next step and start my own channel, though, I never imagined that I'd have this much success. I cannot wait to see what the future holds for my channel. In closing, I'd like to thank the ones who have continuously supported my passion of creating by subscribing and watching my videos. I'm forever grateful for my subscribers.
-Kayk
YouTube.com KKsRae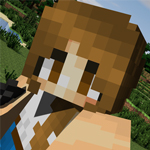 Author: Guest Writer
Published: 24-Nov-2015
Last updated: 27-Nov-2015
---
Comments
Enter your comment below