Minecraft Articles & Projects
Check out our own Minecraft Project Pharaoh Craft

Pharaoh Craft is an educational, Minecraft adventure map with an Egyptian Theme. Collect clues to help you through the puzzles and avoid the traps of the Pyramid of Unas. Click here to find out more.
---
Building 17th Century Hull in Minecraft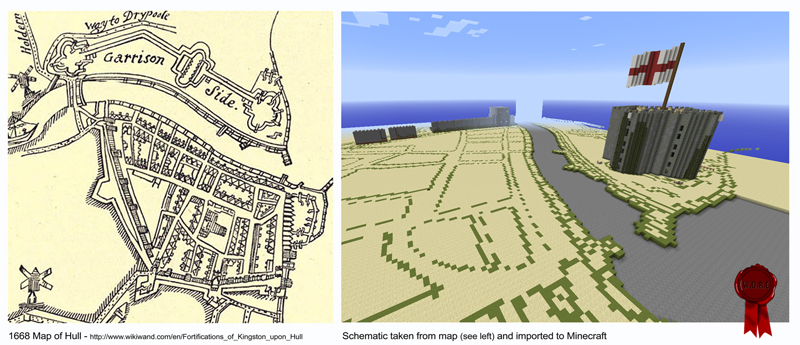 fig 1
We are in the process of planning a series of workshops including BYOD (Bring your own device) events in and around the city of Hull. For these events we need to set the scene for our participants by taking them back in time into our historical Hull-themed world.
We started by re-creating King Henry VIII's castle alongside the river Hull which flows into the River Humber. This was working well however we wanted to get a more realistic, historically-accurate representation to make sure we located the builds in the correct places.
There are several old maps of Hull that show the city throughout the years and the different development stages of its fortifications. A lot of these maps where illustrated in such a way that showed the castles and buildings as drawings rather than from an aerial view, this would make it difficult to import a usable schematic into Minecraft.
After a bit of searching we found a map that was from around the right period and illustrated from an aerial view. We cleaned the image of the map and took out any unwanted items such as text and the drawing of the boat. We then converted our edited map into an image made up of actual Minecraft blocks (See fig 2).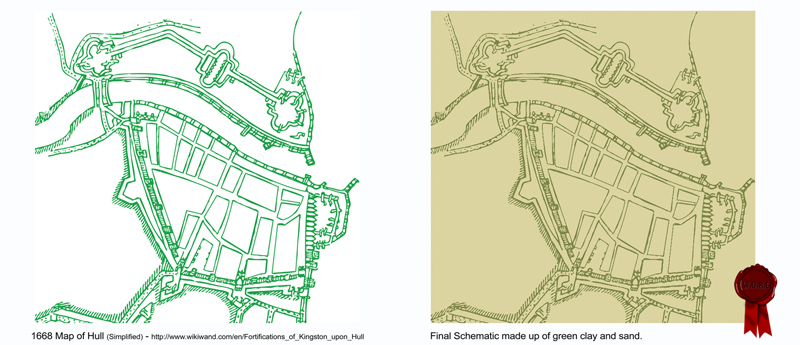 fig 2
In hindsight we could have placed more useful colours into the image to make editing in the actual Minecraft world easier, such as different colour blocks to distinguish water from land. When editing we used a programs and mods, such as World Edit and McEdit, that allow you to edit larger areas. These programs allowed us to select a huge section and replace one block with another whilst leaving specific blocks intact. Figure 3 shows a before and after scene were we have replaced all the stone blocks with grass but without altering our green clay markers.
//replace stone grass. Just in case anyone needs to know this command.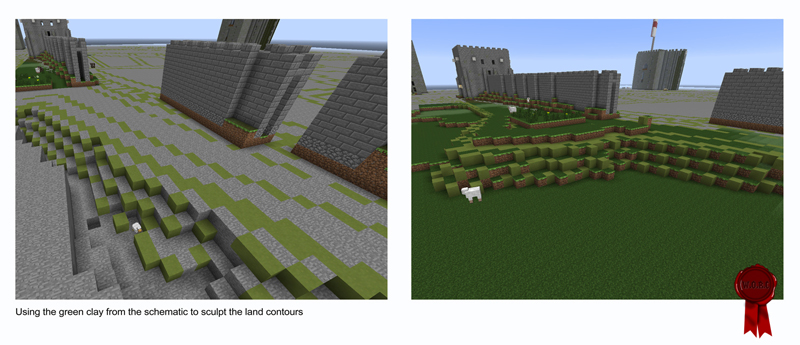 fig 3
We saved the converted image as a schematic and then imported it into our Minecraft world along with some of the builds from our original project. We managed to get the scale just right so the various towers slotted into our plot layout.
The original map showed areas of what appears to be embankments just before the surrounding walls. These came in very useful when sculpting the landscape as each block could be used to represent a higher or lower level (See fig 3).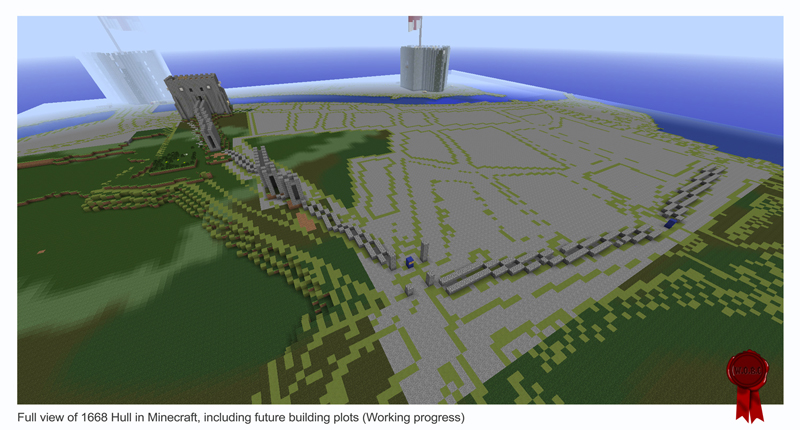 fig 4
Figure 4 shows a view of the majority of the map and as you can see this is quite a big project. Once we have most of the landscaping done Minecrafters will be able to select their own plot of land to build as well as doing one off collaborative builds such as Trinity Church. This map, when finished, will be on our World Of Board Craft server and will be a great ongoing engagement project. We hope that in our workshops and on our live server to re-create 17th Century Hull for users to then be able to walk through in-game and see what an amazing and historical city Hull is.
Author: Bernard - World Of Board Craft
Published: 08-Sep-2015
Last updated: 08-Sep-2015
---
Comments
Enter your comment below