Minecraft Articles & Projects
Check out our own Minecraft Project Pharaoh Craft

Pharaoh Craft is an educational, Minecraft adventure map with an Egyptian Theme. Collect clues to help you through the puzzles and avoid the traps of the Pyramid of Unas. Click here to find out more.
---
Jumping on the Minecart - Ethics in Minecraft
There is no doubt that there has been some amazing projects produced using the popular game that is Minecraft. Examples being the recreation of the realms from Game of Thrones, environments from popular games such as BioShock Infinite and historic buildings such as The British Museum.
The basic concept behind these builds is simple:
Pick a building or environment (it helps if it's well known), then either build it yourself, or even better, get your target audience to build it for you.
One of the best things that has set Minecraft aside from other games is that the developer's terms of usage support modifications of the game (via plugins, mods and resource packs) and also encourage you to share your creations online.


This has meant that the Minecraft community has in turn aided the popularity and progression of the game to what it is today.
Over the past few years Minecraft has become a global phenomenon and has captured the imaginations of the younger gaming demographic. It was clear that it wouldn't take long before the middle aged hipster (most likely going through some sort of mid-life crisis) would jump on the Minecart, as it were. They call themselves "Minecraft consultants" and they have one goal; to make money out of the latest trend.
One of our basic human rights is education and this is one area where I believe there is an ethical issue. Minecraft consultants charge anything from £500 a day to £200 an hour. That works out as much as a Solicitor. They claim they can help you progress your Minecraft projects and/or help you use Minecraft for such things as teaching or educating about a variety of topics, such as mental health, geography or archaeology.
A lot of these Minecraft consultants direct their services towards the Education system. The article Minecraft EDU takes hold on schools state that "A classroom of 25 students will cost about $400 after buying the licenses and the MinecraftEdu server. If your district has a designated IT staff member, or even a tech-savvy parent who can help, this should be your only fee. Alternatively, for $20 a month, MinecraftEdu will host and maintain your worlds."
Minecraft EDU provides a way of using Minecraft as a teaching tool and there are lots of videos online on how to use the software, such as YouTube.
I can see how using Minecraft (either vanilla or EDU) as a teaching tool could benefit a lot of students. I do still have some reservations, however this is another full discussion in itself.
The main issue I have is that a small number of "Consultants" seem to be taking advantage of the popularity Minecraft has amongst kids by pushing this platform into schools and the teaching community and charging for the privilege, at huge risk of 'schoolifying' the game. They then proceed to promise and make claims that Minecraft can solve all manner of issues.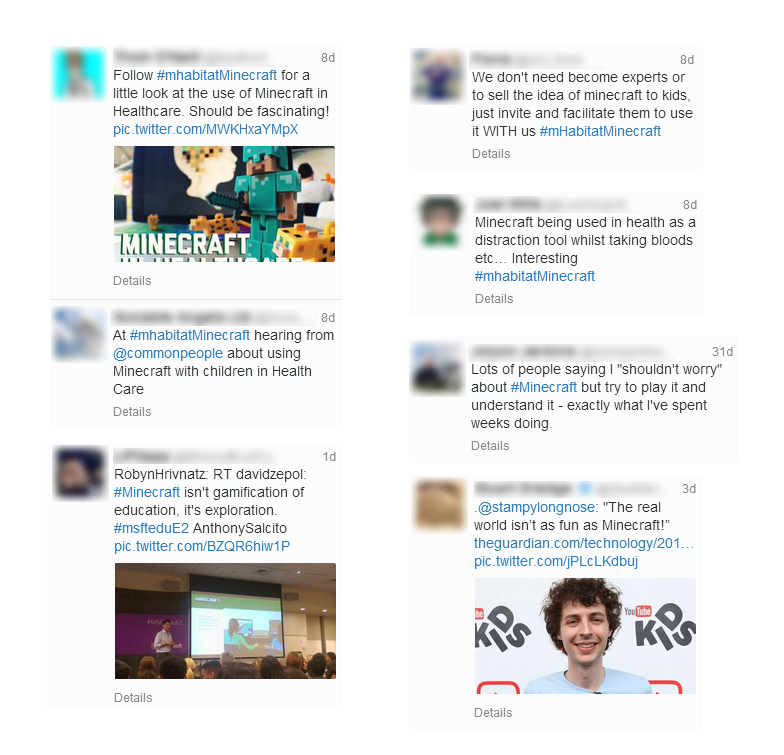 A selection of tweets on a variety of Minecraft topics
I recently watched a live stream of a Minecraft Educational project. The stream had several Minecraft Consultants who were meant to be building live in the server of this project. The stream had issues to start off with so the live build didn't happen, instead when the stream finally started the build was already completed. The rest of the stream involved discussing sound issues with Skype. Any information about the project itself was incorrect and surrounded by crude jokes such as reference to a players short skirt (the female player proceeded to make her character bend over) and other obscenities.
These are meant to be Professional Consultants and educators trying to make you part with your hard earned cash (This live stream would have been £200 per hour I have been told) To be honest I found the professionalism to be shocking as any child interested in the project could have been watching the stream. The stream finally ended when the host decided it would be better to stream live play of the game Battlefield 3.
As stated I can see how these techniques can certainly be used to aid some students, and if you are a teacher or a volunteer willing to do a bit of research/time in order to implement this into your school then that's great!
You certainly don't need to pay a consultant where the gamers themselves enjoy sharing knowledge online via YouTube and Minecraft forums simply because it is a topic they are passionate about. This culture of sharing free advice for gamers, by gamers, has actually contributed to Minecraft's success. Furthermore, if an eight year old can set up their own Minecraft server then the average adult, with a little help from YouTube or Minecraft forums, should have no problem.
Another interesting article on Minecraft and concerns amongst parents.http://www.bbc.co.uk/news/magazine-32051153
Author: Christopher - World Of Board Craft
Published: 30-Apr-2015
Last updated: 01-May-2015
---
Comments
Enter your comment below